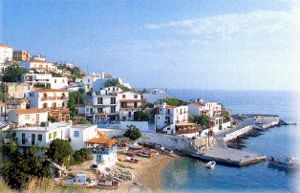 I saw a great Dateline about a tiny Greek island called Ikaria and what it's inhabitants do to maintain their health and live long and well. Here are the eight tips summarized, but be sure to check out the
full article
(with video), too.
1. Fresh goat's milk (straight from the goat, not pasteurized)
2. Mountain living (work hard and lead an active life with everyday moderate-intensity activity)
3. Mediterranean diet (veggies, fruits, whole grains, olive oils)
4. Lots of healthy greens (greens high in antioxidants abound on the island)
5. Drink herbal teas regularly
6. Get lots of sleep (napping is commonplace)
7. Take your time (have a low sense of time urgency)
8. Embrace community and family
I love them all and want to incorporate each and every one of them into my life and my family's life. In reality, it might only be possible to practice a few of them. But I will do what I can little by little and keep adding what I can to the mix as we go along.